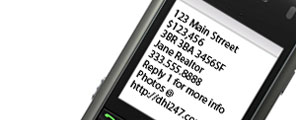 Text messaging has been in use by some real estate agents for years. While others have tended to shy away from it. Below are some of the reasons that our clients like it
Phone Number Capture – With Text Messaging the agent instantly captures the phone number of the person texting for information. This provides the agent the opportunity to respond and ask if the prospect wants to learn more about the listing.
Timely Response – Notifications are delivered to the agent as they come in. In real time. Meaning that the agent knows a prospect is sitting in front the listing at that moment and can personally interact when the prospect is in front of the listing.
Never Run Out of Flyers – Text Messages never run out. So instead of having to fill flyer boxes or lose a lead because the box was empty you can always provide information to prospect.
Easy Access to Photos and Links – Text Messages provides an easy way to include links to virtual tours or photos about the listing.