Selecting a Real Estate Marketing Software Platform can be difficult. There are many considerations. Is it effective? Does it do what I need it to do? Is it easy enough to use that I will actually use it? Here at Agent Sauce we have developed a real estate marketing platform that meets all of these criteria.
Our customers range from agents at national real estate companies to an individual agent with their own company and everywhere in between.
We work with agents who:
Don't have an IT background – you don't need it.
Want an integrated system – no one likes to login to multiple systems to get their marketing done.
Need content that they can use for social media, print and email- find articles to post, ready to go emails and more.
Want to set up their marketing in advance so they don't have to worry about it- we automate emails, reminders, social media and more.
Want an effective way to manage their contacts and keep in touch with their sphere-from one to one e-cards to automated emails and print, we keep you top of mind.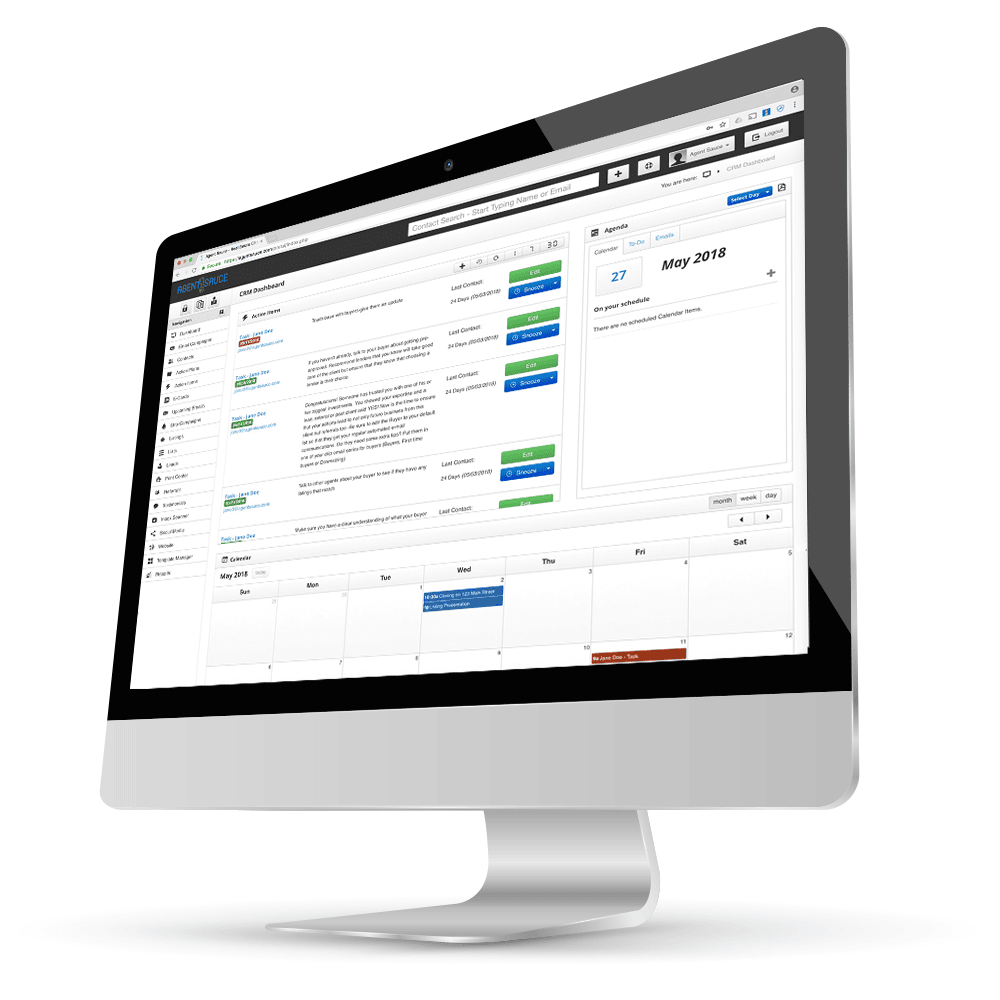 Some of the features that help our agents achieve their goals.
Customer Relationship Management
Advanced Customer Data Management

Lead Tracking and Scoring

Automated Email Marketing

Advanced Reporting and Analytics
Lead Generation
SMS and Toll Free Lead Capture
A Real Estate Automation, Marketing and CRM platform
built specifically to help real estate agents grow their business.
Proven Real Estate Marketing And Sales Advice:
Podcast Deliverability Email Deliverability will improve if you prune your list from time to time. Send emails that relevant to your sphere. Don't buy an email list! It just doesn't work. Real Estate Email Deliverability Podcast Transcript Adam Small: Hello and welcome to the Real Estate Marketing Minute. I'm your host, Adam Small. With me today we have our esteemed [...]
Holiday cards are here! Our holiday cards are here! As part of our ongoing commitment to making the lives of our customers easier, we are offering 3 holiday season card options. These cards are easy to order and cost effective at just $1.99/ea. delivered! A little info about the cards: 5"x7" High Quality 16pt Card Stock Full Color [...]
Lacey Everett Director of Political Affairs and Engagement Steve Thompson RPAC Trustee Vice Chair Zach Miller Northside MIBOR RPAC Trustee Podcast Takeaways MIBOR RPAC Info Celebrating 50 Years of RPAC RPAC is not Partisan - RPAC represents the REALTOR® party. Dues are not used for lobbying RPAC - Helping Agents and Homeowners Podcast Transcript Adam Small: Hello and welcome to [...]