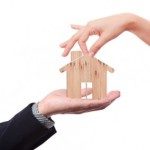 I probably see or hear hundreds of subtle requests for referrals from agents on a daily basis.  I see them in emails, on voicemails, in signature blocks, and on business cards.  While I've seen some clever ones, most are one of a few standard cookie cutter messages.  I've been asked a number of times for recommendations for a good realtor followed by a statement as to what the person is looking for (experts in a particular geographical area or someone good with helping first time home buyers etc.) I've never once been asked if I know of a good real estate agent who is "not too busy" to sell their home or help them find a new one.  For this reason alone, I struggle with the popularity of this quote as a means to encourage referrals.  Imagine another industry using a similar quote, "I'm never too busy to sell office products to your friends and family".  Sounds odd, does it not?
So, what makes you stand out and helps people not only remember that you are a realtor but one that they would feel confident sending their friends, colleagues and family to?  Below are just a few things (aside from providing great customer service to clients) that I have noted in agents getting a lot of referrals.
–The agent has a focus and shows expertise in that area.  Maybe you love selling or helping buyers find a home in a particular area, or you are a condo king or focus mainly on short sales or new construction.  Customize your referral tagline and marketing to include your ideal client.
–They are not all business all the time.  Is your business facebook page or blog just full of listings?  Is your "about me" section on your website nonexistent or filled with just who you are as a realtor?  Give people things that they can relate to.  Show them your character-be genuine.  You might be surprised what people will remember from your "about you" section.  Even with a referral, there is a good chance that potential clients will try to learn more about you online before reaching out to you.
–They keep in touch…often.  A branded monthly email is a great way to stay top of mind with your contacts.  Personal one on one follow up is important too-such as a call after a sale, a personal note or a request to have coffee or lunch.  When is the last time you reached out to a past client?  Do you remember your clients from 3 years ago?  If not, chances are they won't remember you.
–They don't seem desperate.   The housing market has been tough in recent years and while you may take any client you can get your hands on, promoting that is not a good idea.  On more than one occasion, I have had an agent ask me within minutes of meeting me whether I knew of anyone looking to buy or sell a house.  Complete turnoff.
–They are involved in their community.  Showcase your leadership and marketing skills by participating in a group that interests you.  Whether it's a club, your church, a charity, or a hobby-take an active role and let people get to know you.
Have other tips for gaining referrals? Let us know!