Selecting a Real Estate Marketing Software Platform can be difficult. There are many considerations. Is it effective? Does it do what I need it to do? Is it easy enough to use that I will actually use it? Here at Agent Sauce we have developed a real estate marketing platform that meets all of these criteria.
Our customers range from agents at national real estate companies to an individual agent with their own company and everywhere in between.
We work with agents who:
Don't have an IT background – you don't need it.
Want an integrated system – no one likes to login to multiple systems to get their marketing done.
Need content that they can use for social media, print and email- find articles to post, ready to go emails and more.
Want to set up their marketing in advance so they don't have to worry about it- we automate emails, reminders, social media and more.
Want an effective way to manage their contacts and keep in touch with their sphere-from one to one e-cards to automated emails and print, we keep you top of mind.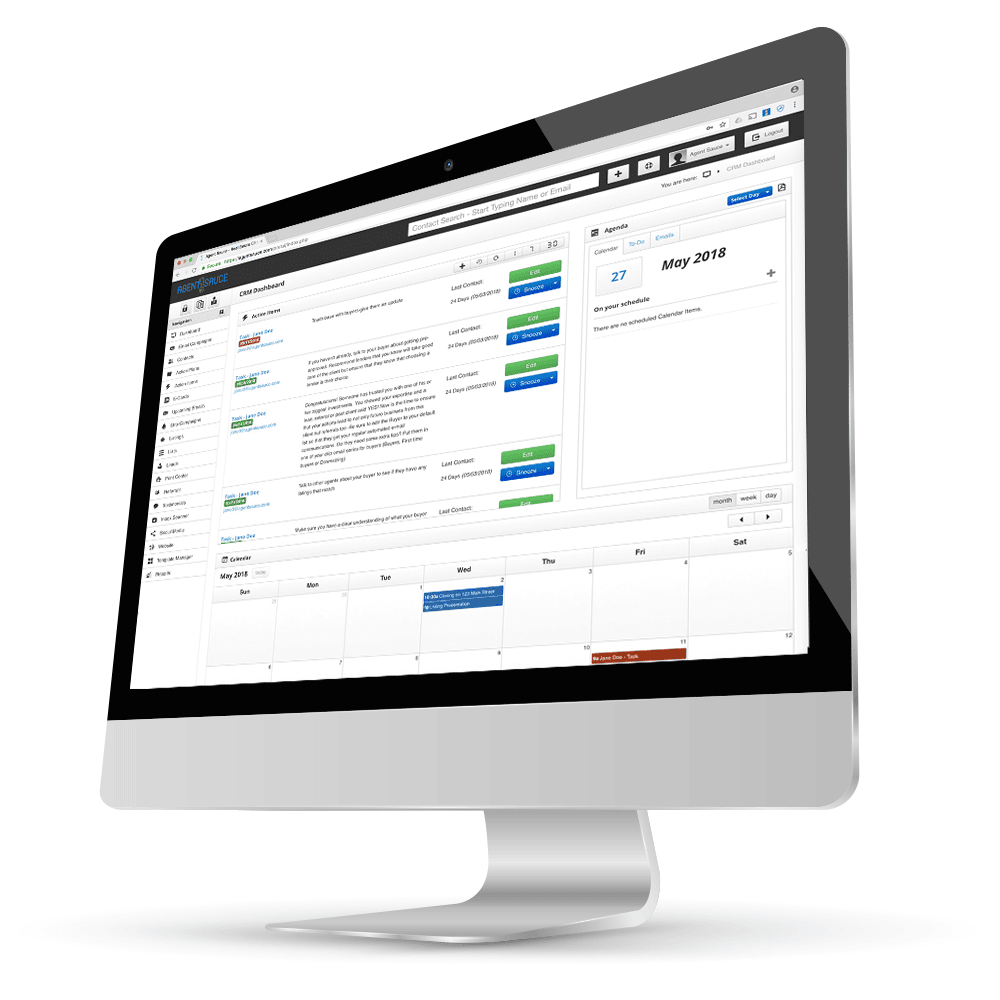 Some of the features that help our agents achieve their goals.
Customer Relationship Management
Advanced Customer Data Management

Lead Tracking and Scoring

Automated Email Marketing

Advanced Reporting and Analytics
Lead Generation
SMS and Toll Free Lead Capture
A Marketing and CRM platform built specifically for Real Estate Agents
Proven Real Estate Marketing And Sales Advice:
It was great learning how Clear 2 Close Cleaning Services make listings shine! Podcast Takeaways Cleaning all the little details makes a difference when showing a listing. It takes a specialized cleaning to get that "TV" finish you see on home improvement/flipping shows. A walk through before cleaning makes sure that everyone is on the same page. Getting Clients to [...]
Great interview with Mark Ratterman about Home Appraisals and what agents can do to prepare buyers and sellers if there are issues. Mark Ratterman, MAI, SRA Real Estate Appraiser Indiana Real Estate Appraiser Podcast Takeaways Communication can go along to resolving issues without having to file a complaint. All appraisers must be licensed or certified. Lenders look at the comparables. [...]
Do you own your domain? Are you sure? What if you wanted to change your website host? Podcast Takeaways Make sure your information is listed as the Domain Registrant and/or Domain Admin Contact. Your tech people can be the Domain Tech Contact. Verify your Domain Ownership at https://godaddy.com/whois/ There are good reasons to provide access to your domains to your [...]